To repeat a little of what I said last upload:
Because my career and personal obligations finally sidelined timeliness
of this 'zine too much, I decide upon an alternate strategy to
being the one-man-band I've been here for going on 20 years.

My dear friend Susanna Bowling, head honcho at Times Square Chronicles,
long ago extended me an open invitation to write for that publication,
and I finally accepted it. I've been writing reviews fairly steadily, for the last few weeks,
that have been uploaded and archived there, under the column heading
Aisle Say on the Square.

I will continue to maintain the Aisle Say site, but at least for now,
links to new reviews of mine, that appear on each New Edition's homepage,
will take you to those reviews on the Times Square Chronicles website.
Likewise the matching links on the New York & Environs index page.

For my reviews that appear on Times Square Chronicles between Aisle Say editions,
there'll be a permanent link, in several home page places, that takes you to the
TSC David Spencer index. A link, in fact, like this one. :-)
(Formatting and header info may be a bit fluid for a time,
until pattern and repetition help the right templates evolve.)
In this way, I can stay timely without the pressure and delay of making
each new ish carry the full burden. It should be easier to
upload more regularly — and that will make it easier
on the regional correpondents, getting their licks in
more timely-like too.
And I'm pondering other innovations to help that as well.

PS — If there's a paradoxical lack of timeliness to a few of the
review links below, those reviews have actually been up
at the Times Square Chronicles for a fair amount of time.
This edition of Aisle Say is just the first one to incorporate the linkage,
and I'm showcasing the complete first batch.

To repeat my concluding remarks of last time:
I'm not going anywhere — but since life sometimes forces you to adjust,
I'm adjusting. As one does…

So okay; that's the story.
Thanks, as always, for hanging in.


For previous reviews of current or recent attractions,
as well as a partial selection of archival material
see regional indexes at the bottom
of the Home Page.
New Features This Edition:
From New York critic David Spencer:

That promised think piece on the past season's musicals:
Last Musical Standing
(Waitress, Bright Star, American Psycho, School of Rock,
Dear Evan Hansen, Tuck Everlasting…
and oh, you know, that other one…)

The perennial patterns of off-Broadway musicals
by non-theatre practitioners:
The Off-Broadway Conundrum
(Hadestown, The Total Bent)

Brits off-Broadway's
Alan Ayckbourn plays in repertory
(Hero's Welcome, Confusions)

They sure talk a lot…
Desperate Dubliners and Barb-y Babes
(Shining City and Out of the Mouths of Babes)

And speaking of Dubliners…
Ulysses in Tune-Town
(Himself and Nora)

They fly through the air...
and so does the show
(Paramour)

San Francisco critic Judy Richter reviews:
Chester Bailey
by Joseph Dougherty
Directed by Ron Lagomarsino
Presented by American Conservatory Theater
Strand Theater

For Peter Pan on Her 70th Birthday
by Sarah Ruhl
Directed by Les Waters
Presented by Berkeley Repertory Theatre
Roda Theatre

The Invisible Hand
by Ayad Akhtar
Directed by Jasson Minadakis
Presented by Marin Theatre Company
Boyer Theatre

Master Harold…and the Boys
by Athol Fugard
Presented by Aurora Theatre Company
Directed by Timothy Near
Aurora Theatre

Miss Saigon
Music and Book by Claude-Michel Schönberg
Lyrics by Alain Boublil & Richard Maltby Jr.
Directed by Jasen Jeffrey
Presented by Broadway By the Bay
Fox Theatre

Much Ado About Nothing
by William Shakespeare
Adapted by Kenneth Lin & Jackson Gay
Presented by California Shakespeare Theater
Directed by Jackson Gay
Bruns Memorial Amphitheater
Oklahoma!
Music by Richard Rodgers
Book and Lyrics by Oscar Hammerstein II
Based on Lynn Riggs' Green Grow the Lilacs
Directed by Joshua Marx
Presented by Broadway By the Bay
Fox Theatre
Sweet Charity
Music by Cy Coleman
Lyrics by Dorothy Fields
Book by Neil Simon
Directed by Erica Wyman-Abrahamson
Presented by Hillbarn Theatre

Vanya and Sonia and Masha and Spike
by Christopher Durang
Directed by Linda Piccone
Presented by Palo Alto Players
Lucie Stern Theater
The Velocity of Autumn
by Eric Coble
Directed by Giovanna Sardelli
Presented by TheatreWorks Silicon Valley
Mountain View Center for the Performing Arts
When the Rain Stops Falling
by Andrew Bovell
Directed by Kimberly Mohne Hill
Presented by Dragon Productions
Dragon Productions Theatre

The Wild Party
Book, Music and Lyrics by Andrew Lippa
Based on a poem by Joseph Moncure March
Directed by David Davalos
Presented by San Jose Stage Company
Philadelphia critic Claudia Perry reviews:

Sister Act
Music by Alan Menken
Lyrics by Gene Slater
Book by Cheri Steinkellner & Bill Steinkellner
Additional Book Material by Douglas Carter Beane
Based on the Touchstone Pictures Motion picture, "Sister Act" by Joseph Howard
Directed & Choreographed by Richard Stafford
Walnut Street Theatre

Venus in Fur
Written by David Ives
Directed by Christen Mandracchia
The Centre Theater
Ontario critic Joel Greenberg reviews:
See Indexes below for many more current and archived reviews!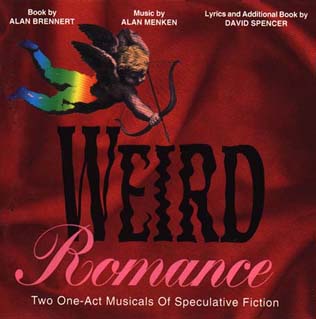 Copyright (c)2013 by TheatreNet Enterprises
*Aisle Say is updated bi-weekly. Depending upon the variables of staff schedules, official opening dates of new productions, and accessibility of the website's Internet service provider, each new edition will appear in the time-window between Sunday night and Wednesday morning. The Home Page will always display the date of upload..
Aisle Say welcomes reader response.


or write to aislesay@aol.com
Aisle Say is a main listing, under "Magazines" at

Theatre Central

the 'net's primary Guide to Web Theatre pages.
AISLE SAY is not, nor has ever been, nor would ever be, under any circumstances you could possibly devise, imagine or postulate, in this or any alternate universe, connected to or associated with the similarly titled column by Carolyn Albert, appearing in the monthly hard copy publication Singles Almanac
In 1996, Carolyn Albert, plaintiff, began legal proceedings against David Spencer, defendant, the webmaster of this 'zine, claiming trademark infringement (specifically deliberate misappropriation and likelihood of confusion) over the use of the phrase AISLE SAY as an identifying mark. The case ultimately went to trial in U.S. District Court, Southern District of New York, on February 24,1998. There was no immediate decision rendered on that date; nonetheless Ms. Albert's claim of misappropriation (understood as theft with conscious intent to capitalize on the plaintiff's "good name") was dismissed out of hand. To settle the "confusion" issue, two noble young attorneys (Eric Weinstein on behalf of Carolyn Albert, Jon Muskin on behalf of David Spencer), were instructed by the judge to prepare briefs.
In a decision rendered subsequently by the Honorable John S. Martin, on August 20, 1998, the charges brought about by Ms. Albert against Mr. Spencer were dismissed -- and it was deemed legally proper for the AISLE SAY website to continue using its title. Ms. Albert would, likewise, continue using the title to identify her column; for the record, her right to do so was never challenged by Spencer or any representative of the AISLE SAY cyber-zine. Basically because we couldn't have cared less. Life is just too damn short for some things. In any event, we went along for the ride, and she had her day in court. It was worth the two grand in fees and court costs to be rid of her. Which we, happily, remained until her passing in 2010. Actually, we're still rid of her. May she rest in peace.
It is worth noting that the attorneys for both parties were obtained through the New York City-based Volunteer Lawyers for the Arts, which is herewith recommended to any financially qualifying person in an artistic bind requiring legal remedy.