Please mark your calendars and attend if you can. Following is the York's official blurb describing the show for those unfamiliar with its particulars—right under the photo of the authors (from left to right: Spencer, Menken and Brennert). And a collage of stills from the original production concludes the web page.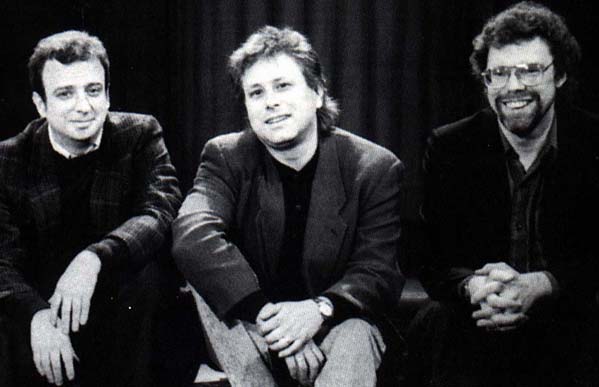 Serious-minded Science Fiction as the stuff of musical theatre? Why not? If history reveals anything, it is that love can exist anywhere, under the most unlikely circumstances. And love--healthy, twisted, requited, thwarted --is what musicals are all about.
So what if this time, the realities are alternate...and passions are laced with futurism and high-tech trappings...and the universe operates by somewhat unexpected ground rules? Affairs of the heart -- and musicals -- will simply adapt accordingly. Welcome to Weird Romance.
Weird Romance, whose authors are all multi-award-winners, features music by Alan Menken (Little Shop of Horrors, Beauty and the Beast, The Little Mermaid); book by Alan Brennert (The New Twilight Zone, L.A. Law, current bestselling novel Moloka'i); plus lyrics and additional book by David Spencer (The Fabulist, Public Theatre La Bohème, Theatreworks/USA's Phantom and Les Misérables).